But Indoor Plants Won't Bring It To Us
Amidst news of annual winter occurrence of pollution and hazard from breathing such air at New Delhi, we heard from a news report recently that the air at Thane is relatively cleaner. Before we celebrate for Thane's supposedly clean air, let us remember that the city is among most polluted Indian cities (for air and water) due to presence of industries within and in neighbouring cities. Indian cities are all prone to air pollution to varying degrees with automobile exhaust, construction, dust in the environment (roads particularly) and burning of garbage being common sources of air pollution.
Every adversity has its benefits and in case of air pollution manufacturers of respiratory protection (masks) and home air purifiers have taken advantage of the situation. As for air purifiers, they have been promoted for cleaning air inside homes and offices. These machines come with sensors that detect the levels of pollutants in the air and accordingly filter and supply the air within a structure. If we look at the dust collected on any surfce not regulalry cleaned at our homes, one can know the extent of dust prevalent in homes. In a township like Rustomjee Urbania which has buildings still being made, it is dust from construction that can be found and even at the higher floors of tall buildings. Regulation now requires such buildings to have screens to prevent dust and debris from spreading and at Rustomjee Urbania we do have such protection. However, fine dust still carries through from a building site and will have to be endured till all construction is complete. Air purifiers are good for construction dust and one can get an idea of extent of dust by taking a look at the filters inside them which will have layers of dust sucked by the machines. So, air purifier machines are an aid to improving air quality at our homes.
Natural air purifiers? A lot of hype has been created around so-called natural air purifiers or plants that apparently miraculously improve air quality and supply purified air. Some such plants are also being touted as oxygen plants which is a misnomer. As happens with most misinformation the myth about plants that purify air has been spread by social media, helped by websites, magazines and newspapers. All plants absorb carbon-dioxide and release oxygen when they make food - this is not air purification but photosynthesis! As for removal of pollutants, some plants have been studied and found to absorb volatile organic compounds from air. After National Aerospace Administration (NASA) of USA released reports of some plants with ability to absorb harmful compounds from air, the hype about special air purifying plants started. That even NASA had studied and used Chlorphytum, Areca Palm, Peace Lilly or Spathophyllum, Snake Plant or Sansiveria and Pothos or Money Plant for air purification. Now more plants have been added to that list which runs to nearly 2 dozen. Biggest beneficiaries of such news are the plant nurseries which are seeing huge demand for so-called air purifying plants.
Indian Rubber Tree commonly used indoors and claimed to purify air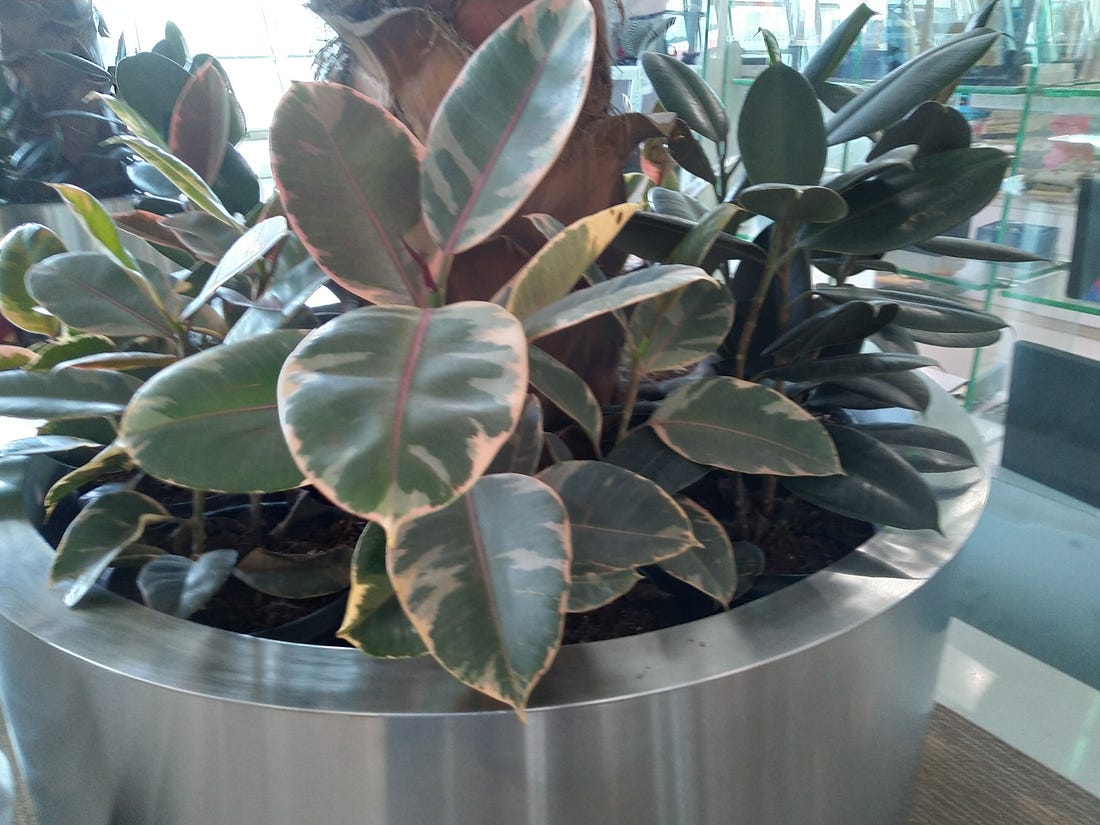 Reality check: Plants CANNOT purify air to make it free of pollutants. Agreed some plants have been shown to absorb air pollutants. But most of those studies were in controlled conditions & may have had continuous lighting (needed for photosynthesis). Further, number of plants required to remove gaseous pollutants in a room may have to number enough to completely fill the room. As for particulate matter, some may settle on foliage but cannot be absorbed. As for oxygen production by some plants at night that is a hoax. Unless a plant photosynthesises it won't produce oxygen & that won't happen in a dark room at night in a house.
Beautiful inflorescence of Spathophyllum or Peace Lilly popular as air purifier
So what should you do? Have indoor plants at home by all means. But don't depend on them for air purification but for decor. For cleaner air you need electric air purifiers. Also, at Rustomjee Urbania the apartments are fitted with U-PVC doors and windows which are dust proof. If you feel it is very dusty outside keep the doors and windows closed to keep our solid particles from entering your house. Those dust particles which enter your house can be cleaned by a vaccum cleaner. A hedge of Hamelia (you can see it in front of Acura) very tall and fully covering length of your balcony can absorb dust too but will also cut light.
Hedge of Hamelia that can guard you from dust